I feel tempted. Mă simt ispitit. De ce? Why? or even 'Miks?' (Estonian). Well, my wife and I have just returned from a holiday in Romania and since my brain is buzzing in Romanian I almost started to continue writing this post in Romanian. I happen to love Romania. We went there for the first time in October 1990 and in the years since I have worked many times there, but this was the first time I had been to Romania for purely recreational purposes.  So for the last couple of weeks I've been using the Romanian language again for the first time since I left Moldova in 2013. I am reminded what a rich language it is. Perhaps the most surprising thing – for my wife, anyway – was the number of people who got into conversation with me on the presumption that I might be Romanian, only to express absolute surprise when I told them that I am in fact a native Brit. It's comforting to know that I can still make myself sound like a native Romanian with a few days of becoming reacquainted with the language. The experience got me thinking about language, the part that it plays in bringing people together and hence in promoting the concept of EU citizenship.
We all think in our mother tongue. It's only when you get to a certain stage of fluency in another language that you find yourself subconsciously thinking or even dreaming in it, as I do in Romanian from time to time. The melody of a language, its nuances, its rhythms and word stresses influence music that uses the language. That's one of the reasons why songs and poetry are often difficult to translate without losing some of the beauty of the original.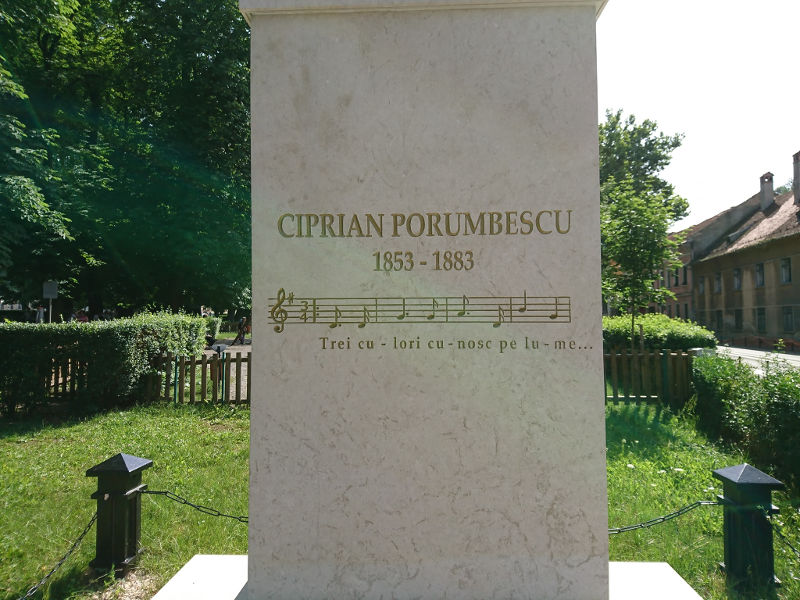 Emoţie de toamnă
A venit toamna, acopera-mi inima cu ceva,
cu umbra unui copac sau mai bine cu umbra ta.

Mă tem că n-am să te mai văd, uneori,
că or să-mi crească aripi ascuţite până la nori,
că ai să te ascunzi într-un ochi străin,
şi el o să se-nchidă cu o frunză de pelin.

Şi-atunci mă apropii de pietre şi tac,
iau cuvintele şi le-nec în mare.
Şuier luna şi o răsar şi o prefac
într-o dragoste mare.
I once tried to translate my own song 'Beautiful Lord' into Romanian, with the title 'Domn Minunat'. It wasn't easy but the result works up to a point. Some things, however, are simply untranslatable. I remember that for my 45th birthday in September 2000 my deputy project manager and assistant conspired to buy for me the book 'Îngerul cu o carte în mână' by the Romanian poet Nichita Stănescu. I enjoy very much Stănescu's poetry because the imagery in it is fantastic – in the original language. His poem 'Emoţie de toamnă' doesn't work in English. Sure, one can translate the words, but in doing so one destroys the spirit of the poem.
So the different languages of the European Union are not merely alternative ways of saying the same thing. Each has its particular ways of forming and using words, which colours the way its speakers perceive what happens in the world. "I gave the book to Nicoleta" somehow doesn't feel as specifically precise as the Romanian "i-am dat cartea Nicoletei", but maybe that's just my imagination.
Those of us who work frequently with EU policy and legislation may perhaps see the various languages through the monochromatic filter of vocabulary and sentence structures that are by necessity aligned as far as possible in meaning and interpretation. If it were to end there, Europe would be a poorer place; but if we regard each of the EU's languages as a treasure trove of new thoughts, ideas and ways of describing the world around us, then think of how much richer we become! One of my favourite operas is 'Bluebeard's Castle' (A kékszakállú herceg vára) by the Hungarian composer Béla Bartók. I have in my music collection four recordings of it: two in English and two in Hungarian. If I'm listening to it with friends, I use one of the English versions but when I'm listening to it alone I always listen to the Hungarian. When Bluebeard (Kékszakállú) sings of his third wife in the final scene there is depth of poignancy in the Hungarian words that Judit sobs in reply that almost makes it unnecessary to understand exactly what they mean. Put simply, English cannot do justice to the intensity of the Hungarian.
BLUEBEARD
The third I found at evening.
Quiet, languid, sombre twilight.
Hers is each returning sunset.
Hers that grave and umber mantle.
Hers is every solemn sunset.
JUDIT
Fairer, richer far than I am!
KÉKSZAKÁLLÚ
Harmadikat este leltem,
békés bágyadt barna este.
Övé most már minden este,
övé barna búpalástja,
övé most már minden este.
JUDIT
Jaj, szebb nálam, dúsabb nálam.
The languages of the European Union add to each other by expanding immeasurably the scope for creating thinking and describing the world around us. As fellow citizens of the EU let us celebrate this diversity rather than feeling threatened by it.